When nature, artists, authors, websites and the dot collide…
 "What if we all made it our resolution to make this year awesome for somebody else?" perfectly connected to the art teacher in Peter Reynold's The Dot.
NATURE + THE DOT + WRITING = CREATIVITY
(Visit our display outside the school cafeteria.)
Your Dot – Print this dot and create a work of art – The Dot.  Your perspective has the opportunity to make others think, wonder, question.  What will you design?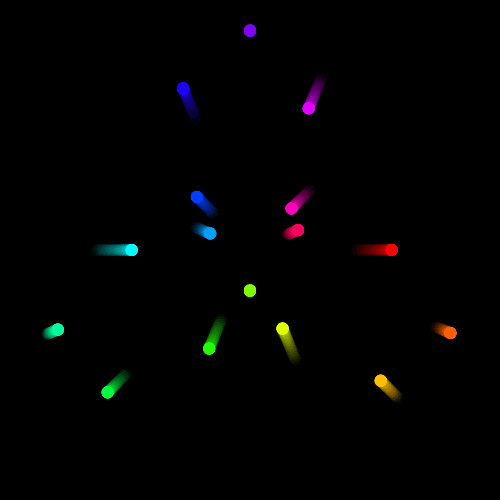 The optical illusion below was created by two programmers, David & Brian.  Using code they created various illusions with the dot!  Look carefully at the image below.  Are the dots rotating or not? What do you observe when you look at the picture in its totality compared to the dots individually? Does this make you wonder? question? investigate?
In today's society, students are accustomed to reading everything on the web. From eBooks to newspapers to magazines, there is a link or an app for almost everything.  Watch this video created by high school students.  Their reaction to spine books is priceless.
Some authors are getting wise to the youth today. Herve Tullet is now a New York Times Best Seller with his book, Press Here.  This "interactive" book adds an element of surprise to all readers.
The TASK: You are to create an interactive picture book that includes the element of surprise. This book will be shared with the BOCES class at SOMS and/or K-2 classes at WOS.
To DO: Be inspired and be creative. Feel free to use Carter's 600 Black Spots or any technology feature/app to go above and beyond. (I will share an animation feature in PowerPoint that you might want to consider.) Or you can do a paper version similar to Tullet's.
Due: Final products must be completed by Friday, November 13th. 
Click this planning page to begin your book for next class. – Planning Page Dots
New York Times – Outside the Lines
Will you be inspired?  Will you inspire others as well?
Get your cameras ready!
"In this exuberant book, acclaimed graphic designer Craig Frazier does more than simply showcase a vast variety of dots, he encourages young readers to look closely at the world around them. Through his energetic images, the ordinary becomes extraordinary. Buttons are dots. Wheels are dots. Ladybugs have dots. And so do the fried eggs on your plate. Lots of Dots is lots of fun!" Text by Chronicle Books
We are reminded to PAY ATTENTION in Kathy Stinson's book, The Man with the Violin.
Your job is to create a pic collage of all things round that you encounter in your daily life. Do not take pictures off the internet. You want others to "pay attention" to things they pass every day.
Use your world to take real photos.

Email your photo to this address: [email protected]
Add these tags each time:

lots of dots
How much do you know about this dot, the Harvest Moon? In the northern hemisphere the Harvest Moon will appear September 18th. This is the full moon that is closest to the northern autumnal equinox. A team from NASA ScienceCasts explains why it is called the Harvest Moon and why other moons have names too.
Now it is your turn to do your own mini-research project.  You need to wow your audience in one minute and thirty seconds on a topic.  The catch…it has to do with a dot!  For example, the moon for science, buttons for fashion, hockey puck for sports, etc.
Start thinking about what you would like to do.

If you can, download one of the following free apps- Haiku Deck, 30 Hands, 9 Slides. Also check out wevideo.com!  username:kmcbride password:mcbridegt

Research your topic for the most captivating information that everyone would want to know.

You want to inspire others to find out more about your "dot." Leave your audience wanting more!

Similar Ideas/Examples: Our One Minute Story, Statue of Liberty, Mother's Day

Planning Page – Use this Padlet page to brainstorm ideas.  Create your own Padlet to develop your idea.
Vashti = Art Teacher
Mrs. McBride = Ann Costello
Who left a mark on you?    This will begin the start of CLE's Dot Display.
We will write and share personal experiences of one special dot in your life. If you have extra time, create this art for the cover of your writing piece.
Extra time?  Make a constellation book for a child you know.
Love MATH? Computers? TRY EXPLODING DOTS LESSON